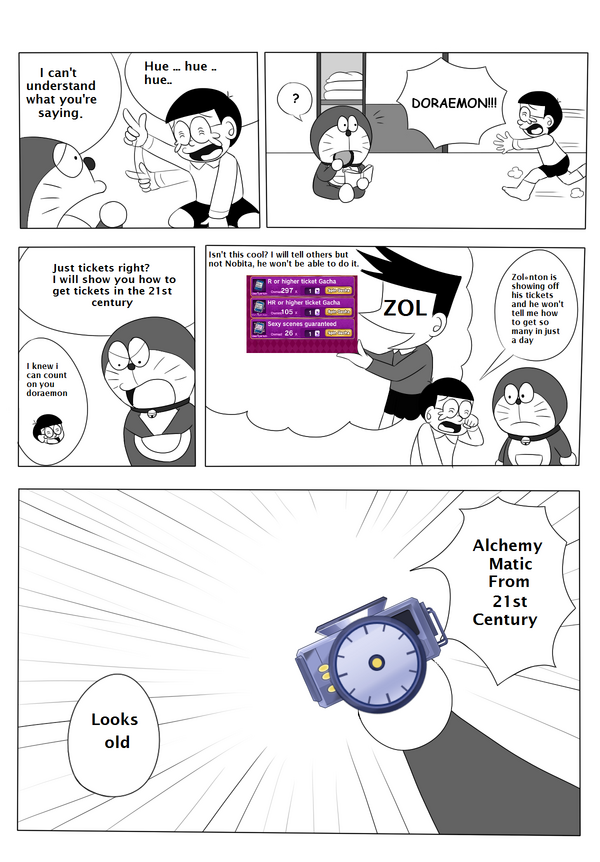 source taken from Teitoku-dora (I don't own it)
Event begins shortly after another event now. The time to farm gems become less and less yet the need of tickets for event is always top priority. Thus, don't be worry, besides farming gems from story quest (Area 3-11 and Area 6-2 for instance) you can also can get gems from alchemy gems.
Don't you have lots alchemy gems 1★? This time I will share with you a method of using the Alchemy gems effectively.
By using alchemy, you can get gems (S) and (M). 1★ Alchemy-gems can be exchanged with gems (S) and 2★ with gems (M).
the recipe below will absolutely result you gems (S) from 1★ as long as the conditions requirements are fulfilled.

Condition:
Total of 4 alchemy gems at least 400
at least 1 of 4 colors is 90

As the condition says, you need at leas one of 4 colors gems has 90 digit. this mean either 90, 100, 100, 110 =400 or more. 2 gems with 90 digit is also possible, as long as the total is 400 or more. for example 90, 90, 90 and 130.
The picture above show how 90,100,100,100 will fail as it doesn't reach 400 quota.
If you've lots of green gems (due to trolltaku didn't update the event drop) you can try 90,90,90 and 130 with the latter the green alchemy gems.
the result are 3:
Gems (S) x30 (love RNG)
Gems (S) x15
Gems (S) x5 (screw RNG)
30 gems might seems low, however you can do it many times. FYI, there is a craft 1★ alchemy five times every day so it's worth to do. Having extra gems is always nice.

Having extra gems is always nice.
Note: It is possible to farm Gems (M) with2★ alchemy gems and (L) with 3★ alchemy gems. However, the result might not be satisfying as it gives very few gems.
Try it out now.
Ad blocker interference detected!
Wikia is a free-to-use site that makes money from advertising. We have a modified experience for viewers using ad blockers

Wikia is not accessible if you've made further modifications. Remove the custom ad blocker rule(s) and the page will load as expected.